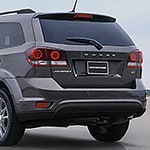 When you really consider all that is available with the Dodge Journey, you will find it hard to believe that this is just a mid-size SUV. It has become so popular because it is built to go over any type of terrain and leave everyone comfortable in the process. Here are a few performance features to illustrate this.
The Dodge Journey comes equipped with an electronic stability control system. This will allow you to drive over virtually any type of road and experience a stable and smooth ride. This is thanks to the anti-lock brake system combined with an all-speed traction control system.
There is also a big fuel tank built into the Journey. With good fuel efficiency, this means that you can drive up to 500 miles on a single tank. That will really get you places without having to stop all the time. Go ahead and test drive the Dodge Journey when you visit Dearth Chrysler Dodge Jeep Ram.