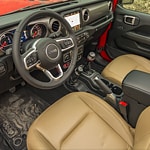 The new Wrangler from Jeep is making waves in the compact SUV market today. People are abuzz about how this popular ride can be customized each time that you get behind the wheel.
In fact, what you see is not necessarily what you get with the new Jeep Wrangler. At first glance, it looks much like any other Jeep that you would expect from this brand. However, when you look closer, you realize that many of its exterior features can be snapped on and off easily.
Maybe you want to experience the sun and surf when you go cruising in your Wrangler on the beach, for example. Simply remove the back window and side doors to expose the entire cabin to the beach. Let in extra air and sunlight by taking off the soft top. You get an open cabin on every side that leaves you open to the elements.